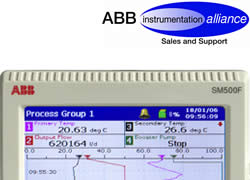 Client: Leading Global Chemical Manufacturer
Value: £30k
Full configuration and product support
Ex-stock R&C products
Competitive solution
On-site product training
Description
On understanding our clients' specific control requirements we successfully completed a full control room upgrade for R&C products.
From an initial field sales meeting to detailed FDS from our client, we commissioned ABB recorders to integrate with their exisiting PLC system.
Various site training sessions then followed for maintenance and project teams. On-site commissioning led to a user friendly and low cost solution.