Application Stories
Rhodia's Leeds site employs 44 people, producing surfactants and biocides for the personal care, detergency and water treatment markets.
W H Good Automation Ltd, who have enjoyed a long standing relationship, were requested to change out existing effluent control equipment and replace it with a new control system. The requirement was to maintain a consent pH range of 6-9, recorded at all times, because failure to comply may lead to prosecution.
The site is listed as lower tier COMAH (Control of Major Accident Hazards), due to the toxic materials used. CO² is now used to replace acids. Liquid CO² is stored at a pressure of 20 bar, vaporised into an injection system to allow gas dispersion into the effluent.
Details of Work
Effluent sumps – local authority consent
Effluent sumps are designed to treat waste effluent prior to discharge into their existing sewer system.

6 tanks, each of 20000 litre capacity, form continuous throughput to remove solids and retain oils.

A consent level of between 6 and 9pH is required, caustic dosing below 6pH and CO² injection over 9pH.

An automatic control system was required, with provision for operator over-ride via a key switch.
Control system
The control system comprises 2 off pH electrodes (AP303), provided as dip probes to monitor inlet and outlet pH values.

An Inlet pH analyser (AX460), was supplied to provide a relay output, set at 5.5pH, to activate caustic.

A second relay was set at 8.5pH to activate CO² addition.

We provided retransmission 4-20mA for inlet pH value to a SM500F recorder.

An outlet pH analyser (AX460),was supplied to monitor pH value and provide retransmission outputs for pH and temperature.

Additional C50 controllers were also provided to act as policeman and interface to an existing mini SCADA system.
CO² and caustic dosing requirements
We were tasked to upgrade the existing effluent treatment works, whilst being able to interface with all existing field control equipment for controlling the caustic & CO² dosing system.

They wanted to record & retrieve data via Ethernet communications for the QA department.
Recording and data acquisition
A four channel SM500F videographic recorder provides inlet and outlet pH values, outlet pH temperature, and outlet flow from existing open channel flow meter.

A 110V global alarm is provided to trigger a remote alarm unit.

Ethernet connection is provided for real time monitoring from engineering offices, and FTP file transfer at regular intervals.
What can we provide?
New free standing control panel to incorporate pH control and flow recording equipment.

All necessary signal splitters, policemen and interface modules to blend with existing field control equipment.

Clear, easily readable display units.

Operator failsafes for provision of abnormal loading.
On the back of this success we have received orders from coatings, chemical and paper industry, for systems similar to the one indicated. More recently, with changes to legislation regarding effluent monitoring, we have also included flow and turbidity.
Customers recognise the importance of providing full support, from initial enquiry to installation and commissioning, all readily available through their local ABB alliance partner.
A single SM3000 videographic recorder from ABB is doing the job of five traditional paper chart recorders at Premier Foods' Sarsons vinegar factory in Middleton, Manchester. As well as delivering an initial cost saving, the SM3000 is reducing ongoing maintenance costs and improving data storage and handling.
The SM3000 multipoint recorder gathers data from five vinegar pasteurisation lines. Pasteurisation heats the vinegar to destroy any pathogens that could make it unsafe or shorten its shelf life.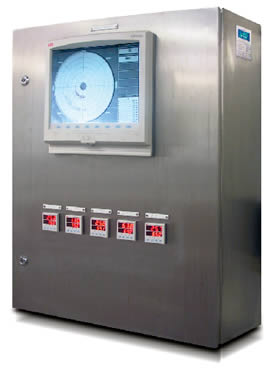 Food safety is top priority and it's crucial for Premier Foods to monitor the pasteurisation process closely. The SM3000 records the temperature of each pasteuriser once every second. "Data storage is a big advantage of the videographic recorder," says Kugler.
"At the moment the data is stored on a flash disk on the recorder and uploaded to a shared drive once a week. That's also backed up, so we have the security of the data being stored in three separate places, rather than on a single paper chart."
Electronic data storage also makes it easier to search and manipulate the data to track trends or spot the early signs of maintenance issues that may require attention. "The searchability is superb," says Kugler. "The recorder stores the data in a spreadsheet. We can now create trend graphs or search for data from a particular time of day, for example."
Kugler also says that learning to take full advantage of the SM3000's more sophisticated functions was made easier by W H Good Automation Ltd, the ABB channel partner which supplied, installed and commissioned the recorder. "W H Good Automation Ltd installed and set it up for us. They asked us what we wanted to do and worked out how to make it happen. They did everything really," he says.

Cathodic disbondment testing is used to evaluate the long-term performance of barrier coatings such as paint and epoxy, which are used to protect metal pipes in underground applications. These tests are carried out in a laboratory environment using our specialist electronic equipment.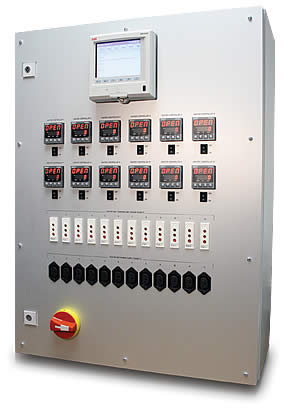 W H Good Automation Ltd have been working closely with many major paint and epoxy manufacturers, as well as industry leading approved test houses for many years, designing bespoke solutions for these tests. With a vast knowledge of experience in temperature control, detection and trending, as well as heating loops, panel design and build, we have successfully offered tailor made solutions to the continuously changing approved standards.
The key to our success in this market is understanding our clients needs and working with them to provide the most cost effective solution. With CBT systems, multiple test cycles are run at any one time so we design individual control loop panels. Each controller is able to control from its own temperature probe and heater. These all run from the same panel saving valuable space in the laboratory.
Various heating calculations and heating designs such as silicon heater mats, cartridge heaters and plate heaters are carefully selected to ensure the most efficient temperature solution, often running up to 16 various tests on a single 13A power socket.
The service we offer helps understand the initial specification from the client and designing the tests around the new standards. We also design bespoke temperature probes, calculate heat loss, provide traceable calibration certifications and commission. Training on PID tuning and data reporting is also offered.

Working with various UK and overseas energy companies, W H Good Automation Ltd have provided several types of steam generating systems which produce up to 5MW of electrical power, both on waste to energy systems and steam export to secondary process plants.
Either using a stand alone PLC/SCADA system or in the case of this application story, we have listed the use of individual PID controls as part of a hybrid system. This gives the plant operator independence of a fully automated system with the flexibility of placing the PID controllers in manual should the need arise to ensure consistency of supply.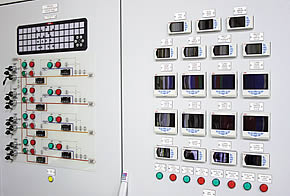 ABB CM30 controllers were chosen to provide boiler house control, including cascade and feed forward templates providing drum level control. To prevent the boiler from overloading on start up, a ramp to set point features were used on the high and low steam pressure and temperature controllers.
ABB CM15 indictors were used to provide steam header temperatures, demin water and steam flow with totalisation. All of the ABB panel instruments were in communication with the main PLC and remote SCADA system via Profibus providing the necessary boiler house information. A separate ESD and fire and gas tripped panel was also supplied.
On additional projects we have supplied all the necessary instrumentation associated with boiler house and water treatment systems, including temperature, pressure, flow and analytical equipment shown in this brochure.