ABB C1900 Circular Chart Recorder
The ABB C1900 Circular Chart Recorder is a fully programmable recorder for up to four process signals.
The ABB C1900's straightforward operator controls and robust construction make it suitable for a variety of industrial environments.
Excellent standard facilities are complemented by a powerful range of options to give the flexibility to match your application.
ABB C1900 Features

1 to 4 pens

Full application flexibility

NEMA 4X/IP66 construction
Analogue, relay outputs, digital inputs and transmitter power supply as standard

Range of inputs and outputs built-in

Multiple 6-digit indicator panels

Continuous display of all signal values

0.1% measurement accuracy

Precise process information

High noise immunity

Robust, dependable operation

RS485 Modbus serial communications

Open systems compatibility

Totalisers and math functions built-in

Fully integrated solutions
Comprehensive Process Information
The ABB C1900 lets you see the status of your process at a glance: high visibility 6-digit displays provide a clear indication of up to four process values simultaneously and active alarms are signalled by flashing LEDs below the main display.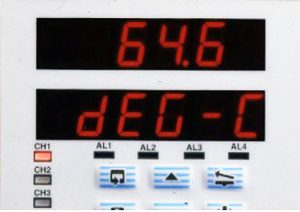 The chart is easily set up to show the information you need in the way you want. Pen ranges are individually set to give the best resolution for each signal; the time per revolution can be selected between 1 hour and 32 days.
Additionally a true time event pen facility enables one pen to be set up as a 3-position event marker on the same timeline as Pen 1.
Simple Operation
The clearly-labelled tactile keypad gives direct access for operator adjustments and configuration programming, without the need to open the recorder's door.
Clear text prompts on the digital displays guide the user around the various menus.
A password-protected security system prevents unauthorised access to configuration adjustment menus.
Flexibility to Solve Problems
The ABB C1900 offers seamless integration of loop functionality to solve process problems, eliminating the need for auxiliary devices.
Totalisers, Math and Logic
Integrating fluid flow to calculate total volume is performed by the built-in totalisers available for each channel. Relays can be assigned to increment or reset external counters to match the recorder's totaliser values.
User configurable math functions, mass flow calculations and RH tables are all fully supported. Logic capability allows interlocking and integration of discrete and continuous functions to solve a wide range of process problems.
Timers and Clock
The ABB C1900 offers two event timers driven by the recorder's real-time clock. The timers can be configured to operate relays, start/stop the chart or trigger other actions within the recorder.
Modbus RS485 Communications
Communications with PCs or PLCs are achieved via the RS485 serial communications link, enabling the ABB C1900 to serve as the front end of plant-wide data acquisition systems.
Using Modbus RTU protocol all process inputs and other variables can be continuously read by a host PC running any of a wide variety of standard SCADA packages.
The ABB C1900 is Built to Meet Your Needs
The ABB C1900's modular architecture gives rise to a high level of hardware choice: up to five I/O modules can be added to the basic instrument.
The standard input/output module supplied with every pen comes complete with a fully isolated analogue input, a relay output, transmitter power supply, isolated analog retransmission and two digital inputs.
Further input and output capability is provided by a range of plug-in modules:
Analogue input and relay – for use with math functions
Four relays – channel alarm outputs
Eight digital inputs – linked using logic equations
Eight digital outputs – TTL level alarm outputs
Modbus RS485 communications – interfaces with PCs
Expandable for the Future
The ABB C1900 may be quickly upgraded to meet your changing process requirements.
Additional recording channels, math capability or input and output functions can be retrofitted on-site using plug-in cards and easily fitted pen arms. Input calibration data is stored on each card, allowing quick changes to input cards without the need for recalibration.
Changes to input sensors or recording procedures are accommodated by reconfiguration using the main keypad.
Designed to Survive
NEMA 4X protection ensures the ABB C1900 can survive in the harshest environments and makes the recorder ideal for use in panels which are regularly hosed down. The tough, acid resistant case and secure cable-entry glands maintain the NEMA 4X rating for wall-mounted or pipe-mounted instruments.
Noise Immunity
Recording accuracy is maintained in noisy industrial environments due to the advanced EMC shielding within the recorder. The power supply has been designed to give excellent protection from power spikes and brownouts and all configuration and status information is held in non volatile memory to ensure rapid recovery after a power failure.
Minimal Maintenance
Excellent long-term stability keeps recalibration to a minimum, cutting the costs of ownership. User-selectable chart speeds and long-life pens combine to limit usage of consumables.
Built-in Quality
The ABB C1900 is designed, manufactured and tested to the highest quality standards, including ISO 9001.
Easy to Install
A choice of mounting options enables simple installation of the recorder in a panel, on a wall or on a pipe. Detachable terminal blocks allow for trouble-free connection of input and output wiring, with mains isolation provided by a power switch within the instrument.
ABB C1900 PDF Downloads
The ABB C1900R Circular Chart Recorder / Controller is a fully programmable Circular Chart Recorder / Controller combining two PID control loops with 4-pen recording.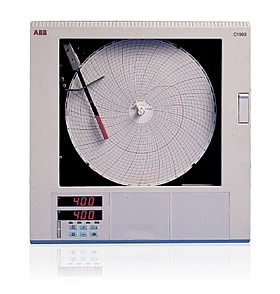 The ABB C1901 Single Pen Circular Chart Recorder is a single pen, fully programmable circular chart recorder.
The ABB C1950 (STLR & HTST) Pasteurizer Circular Chart Recorder is a totally self-contained unit suitable for panel, wall or post mounting.
The ABB C1960 Multi-Recipe Profile Recorder / Controller has advanced ramp/soak profiling designed specifically for the food processing, canning, tire and dyebeck industries.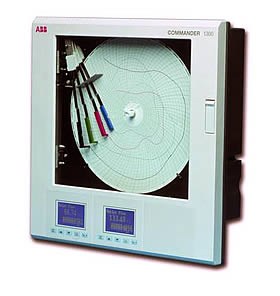 The ABB C1300 Advanced Circular Chart Recorder combines established paper chart recording technology with the latest advances in electronic data collection.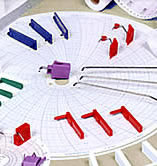 Included in our range of roll, fanfold, circular and sheet recording charts are all paper types, including ink writing, heat sensitive, pressure sensitive and electrosensitive.