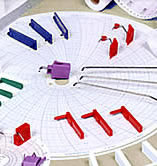 Pens & Paper
Included in our range of roll, fanfold, circular and sheet recording charts are all paper types, including ink writing, heat sensitive, pressure sensitive and electrosensitive.
Wide range of circular charts from 1 min. to 28 days duration
Fibre tipped disposable pens
Roll and fan fold charts
Accurately printed on top quality recording paper
Charts available to fit every type of recorder
Individual coloured pens or ink cartridges
Produced to meet customers specific requirements
Speciality paper types
Print heads
The ABB C1900 Circular Chart Recorder is a fully programmable recorder for up to four process signals.
The ABB C1900R Circular Chart Recorder / Controller is a fully programmable Circular Chart Recorder / Controller combining two PID control loops with 4-pen recording.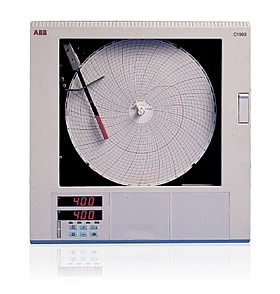 The ABB C1901 Single Pen Circular Chart Recorder is a single pen, fully programmable circular chart recorder.
The ABB C1950 (STLR & HTST) Pasteurizer Circular Chart Recorder is a totally self-contained unit suitable for panel, wall or post mounting.
The ABB C1960 Multi-Recipe Profile Recorder / Controller has advanced ramp/soak profiling designed specifically for the food processing, canning, tire and dyebeck industries.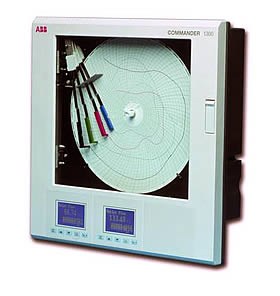 The ABB C1300 Advanced Circular Chart Recorder combines established paper chart recording technology with the latest advances in electronic data collection.