ABB RVG200 Touch Screen Videographic Recorder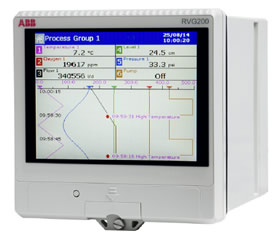 ABB RVG200 ScreenMaster
The ABB RVG200 ScreenMaster is a secure, easy-to-use paperless recorder.
Up to 24 process signals can be connected directly to the ABB RVG200's analogue inputs or transferred to it via digital communications. All process data, including alarm conditions, math calculation results and totaliser values, are displayed clearly to the operator and archived securely in an encrypted format for review using the accompanying DataManager Pro PC application.

A touch screen featuring swipe gesture control provides fast and intuitive operation. USB connections further simplify operation by enabling peripherals (for example, a keyboard, mouse or barcode scanner) to be attached.
ABB RVG200 Features
High security data recording

Encrypted data storage compliant to 21 CFR Part 11
Up to 2 GB of internal memory

Simple, intuitive operation

Touch screen operation and configuration
USB connections for keyboard and barcode scanner

Easy network integration

Standard Ethernet communications provide remote data access, process supervision and easy integration to control systems
RS485 Modbus RTU master and slave

Complete data recording solution

Automatic data collection via Ethernet combined with powerful data analysis using DataManager Pro

Built to survive

IP66 and NEMA 4X environmental protection

Scalable high specification I/O

High accuracy and stability compliant to AMS2750
Recording of up to 24 channels
Optional relays, mA outputs and Tx PSU

Advanced functionality

Math and logic
Batch recording
Flow totalisation
ABB RVG200 Paperless Recorder – Product Overview
ABB RVG200 PDF Downloads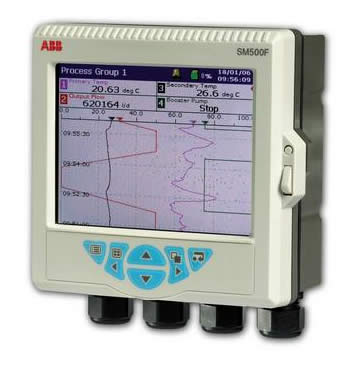 The ABB SM500F Field Mountable Videographic Recorder is a field-mountable videographic recorder.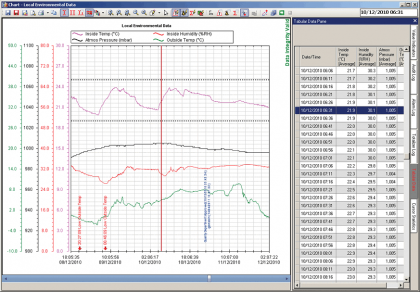 ABB DataManager Pro is an advanced process data management and analysis application used to store and review data archived by ScreenMaster videographic recorders.