ABB SM500F Field Mountable Videographic Recorder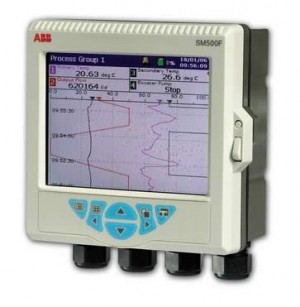 The ABB SM500F Field Mountable Videographic Recorder is a field-mountable videographic recorder. Its unique enclosure design enables wall, pipe or panel mounting of the unit.
Process data is displayed clearly to the local operator through a variety of display formats, including chart, bargraph and digital indicator displays.
Additionally, process data is logged securely to the removable memory card. Ethernet communications provide convenient remote monitoring of the process and access to logged data.
ABB SM500F Features

Unique universal mounting capability

Wall, pipe or panel mount
Ultra-slim design, ≤90mm (3.5 in.) deep

Secure data recording

64MB internal Flash memory
Archiving to SD memory card

21 CFR Part 11 compliant data security

Extensive physical and electronic security features
Two software recording channels for recording of:

Up to 7 analogue/digital inputs
Math function results
Modbus signals
Remote access and data retrieval

Ethernet connectivity
MODBUS RS485 connectivity

Install into the harshest of process environments

Protection to NEMA4X and IP66 standards
Batch recording

Easy tracking of batch processes
ABB SM500F's Unique Enclosure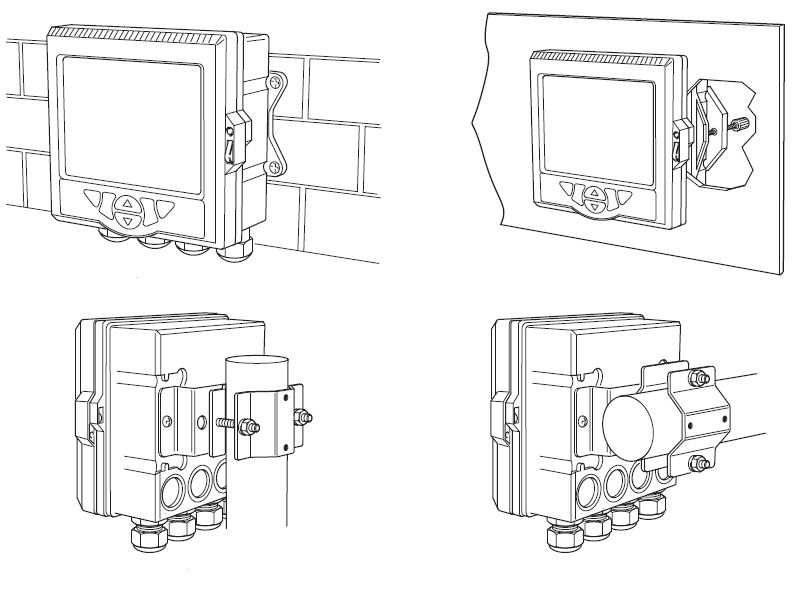 The ABB SM500F is housed in a unique enclosure for a paperless recorder. 'Out of the box' it is possible to either wall or panel mount the device. The ABB SM500F can also be pipe-mounted using the optional kit.
In any type of installation the SM500F's enclosure meets both IP66 and NEMA 4X hose-down standards. This means that the unit requires no costly additional enclosures or protection when mounted in applications that require frequent hosedown.
When panel-mounted the SM500F's ultra slim profile requires a panel depth of only 67mm (2.7in.). This ensures that there are no problems when replacing existing recording devices and enables the ABB SM500F to be installed into existing panels where required.
Save Time & Money
The unique enclosure design of the SM500F enables it to be wall-mounted without the need for additional costly enclosures. To wall-mount a traditional paperless recorder, an additional enclosure must be sourced and a cut-out made to suit the recorder, glanded cable entries made and any internal wiring required for safety regulations installed and tested. The work involved in producing such an enclosure increases costs and installation times significantly.
Flexible Recording
12 software recording channels are featured in the SM500F as standard. Up to 7 physical analogue/digital inputs can be fitted to the SM500F and assigned to a software recording channel. The remaining software recording channels can be used to record math block results, alarm status, signals communicated via Modbus or any other analogue or digital signal available within the recorder. Each software recording channel features 4 process alarms and 2 optional totalisers.
High Specification I/O
The SM500F features up to 4 fully universal inputs. Each input can be configured to accept a variety of process signals directly – including mA, mV, RTD (3 or 4 wire), thermocouple, voltage, resistance or digital signal. Process data can be logged at the high speed of 100ms. All universal inputs have 500V channel to channel isolation.
Alternatively, the SM500F can be specified with 1 universal and 6 process inputs. Process inputs can accept mV, mA, thermocouple, voltage and digital inputs. Each process input pair is isolated by 500V.
Included as standard is a relay output that can be driven from process alarms, memory card capacity warning or many other events. Two additional relays can be added if required. The ABB SM500F can be upgraded easily with additional I/O due to its modular design. When inserted, additional inputs or relay modules are recognised by the recorder and can then be configured ready for use.
Ease of use
Operation of the SM500F is performed via dedicated operator keys on the front panel. All operation and configuration is performed via intuitive Windows-style menus.
The SM500F includes context-sensitive online help that quickly assists the operator when required. This enables the SM500F to be installed quickly and configured without the use of the instruction manual.
ABB SM500F PDF Downloads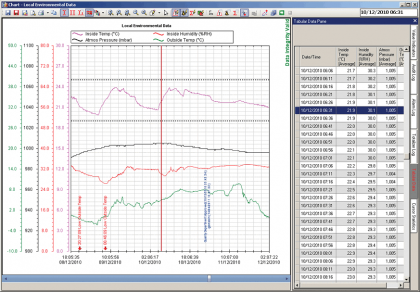 ABB DataManager Pro is an advanced process data management and analysis application used to store and review data archived by ScreenMaster videographic recorders.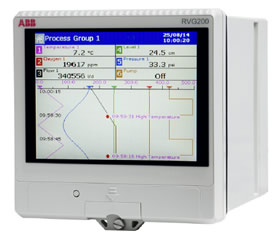 The ABB RVG200 ScreenMaster is a secure, easy-to-use Touch Screen Videographic Recorder.