Integrated Automation & Process Solutions
W H Good Automation Ltd specialise in the design and manufacture of integrated control systems across a broad spectrum of industries and applications.
From initial conceptual project design, production of specifications, project management, hardware and software design, panel manufacture, site installation, commissioning, client training to technical support, we provide a full service.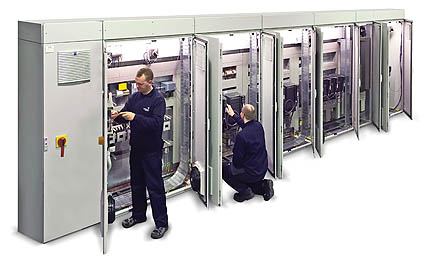 With a well proven track record of success in all aspects of automation, we provide cost-effective, well-engineered solutions to customer requirements, utilising leading internationally recognised automation products.
For almost 35 years, the solutions that we have provided to our clients have taken us around the globe, servicing all types of industry.
Our team of engineers has built up experience in a multitude of disciplines, including batch processing, mechanical handling, pneumatic conveying, PLC, HMI and SCADA systems, drive systems, process instrumentation, specialist machinery, production monitoring and environmental systems. This enables us to offer automation solutions ranging from small wall-mounted control panels up to full, system-wide factory automation projects.
Our in-house MCC/Panel manufacturing facility enables us to keep control of all aspects of the project cycle, ensuring that projects are delivered on time to our clients specification.