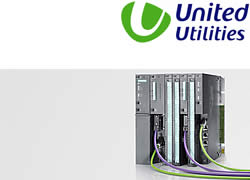 Value: Ongoing
S5 to S7-400 PLCs
Siemens WinCC SCADA
ICA modifications
Installation of SCADA PCs
Description
Upgrade of 4 off S5 PLCs to S7-400 PLCs at WwTW. The Inlet Works PLC, SBCs PLC and Donkins Blowers PLCs were replaced. New OP270 local operator interfaces were installed, and the PLCs were incorporated onto the site H1 network.
Replacement of WwTW AFE SCADA with Siemens WinCC SCADAs. A total of 5 SCADA PCs were installed, 2 on-site and 3 at Blackpool and Fleetwood outstations, all able to communicate over a WAN via ISDN telephone lines to the on and off site PLCs.
We have carried out ICA modifications on various sites, including Bury, Kendal, Ellesmere Port, Bickerstaff and Worsley to in incorporate additional PLC signals and data for integration into the real-time data gathering system.